Pigeons were used all over the South West Pacific area during WWII. Two Australian carrier pigeons attached to the Australian Army even received the Dickin Medal: the animals' equivalent to the VC was awarded to an Australian bird, whose flight to Madang  saved the crew and valuable cargo of a boat that was foundering during a tropical storm. In driving rain the bird had covered 64 kilometers in 50 minutes. By the war's end it had been on 23 missions. Stamp below featuring Purple Poppies for raising funds for Australian War Animal Memorial Organization.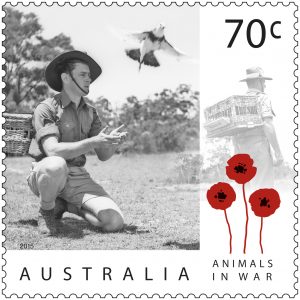 The other medal went to a pigeon attached to American forces on Manus Island after a group of about 200 men were pinned down by the Japanese in April 1944. Suffering casualties and with gunfire raining down, they managed to release a pigeon carrying a plea for help. The bird arrived back at base 48 kilometers and 47 minutes later. Aircraft were sent to clear the area; the troops were saved.
Another time, a box containing a pair of birds was parachuted into the mountains, so a surrounded patrol could detail its position. Birds brought relief to Army engineers stranded by landslides while building a jeep track deep into the Owen Stanley Range.
The Australian War Memorial says of the service: 'The pigeons of these lofts were called upon to operate under conditions which probably no other Army pigeons had to endure. At times the birds had to rise 2000 feet in a distance of three miles, with torrential rain or mist a distinct possibility. Rarely was a message not delivered.'
Nigel Allsopp is a well-known author and expert on war and service animals and captive zoo animal management. 
He is the founder of Australia's largest war animal charity which ensures the deeds and sacrifices of four legged diggers is not forgotten via establishment of memorials in Australia and internationally.
Nigel is a passionate and much sought after speaker as he's able to engage listeners with stories and factual experiences from his years of both practical and researched experiences in this field. 
His expertise is called upon by the Defence Department and government agencies such as Veterans Affairs, RSL Headquarters and Commonwealth centenary committee.
A published author of 9 books, including an international best seller- Cry Havoc- the history of war dogs- published in three languages.
Nigel was awarded Australia's RSL – ANZAC of the Year Award 2017 which recognizes the efforts and achievements of Australian's who have given service to their fellow Australian's and to the community in a positive, selfless and compassionate manner. Nigel is a frequent presenter at RSL, Lions and Rotary Clubs and MC.
Many of his the stories relayed are emotional and humorous and provoke much debate and questions, making him an ideal speaker and presenter at a wide variety of events.
There is a war animal exhibit opening on the 23rd Feb 2018 at Victoria Barracks Brisbane Qld . Below is the link to the museum by clicking on picture  .
Other events include the pictures below which was taken at the Croydon / Kilkenny RSL and left to right: is Jack Hicks (Woodville – West Torrens), Sofia Thalbourne (SAHPA Ring Secretary), Perry Burton (Para Hills), David Thalbourne (SAHPA), Nigel Allsopp (Australian Anzac of the Year) and Greg Kakoschke (ANRPB).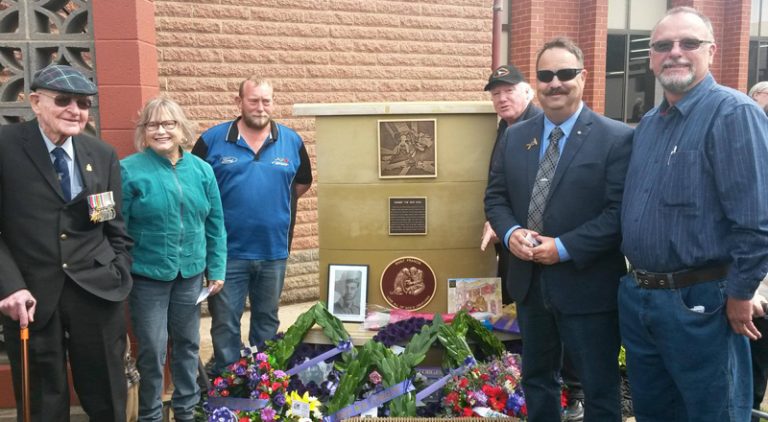 The picture below shows the war animal memorial at Pozieres in Winter. Pozieres is a small village in the Somme valley in France which endured some of the most bitter and costly fighting for Australian troops in 1916.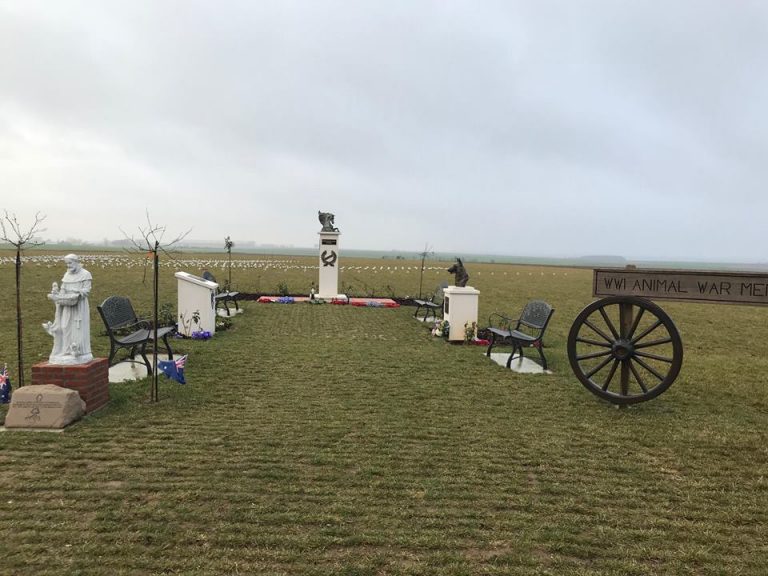 West Croydon and Kilkenny RSL Digger Memorial video. 
28th October 2017