Bill Lawry racing pigeon record 
  * Started racing in 1964 and has continued without a break until the 2017 year when he decided not to race due to the Rota Virus issues.
  * His brother raced pigeons during this time, but never in partnership with Bill.
  * His clubs during this period were Brunswick VPU, Regent VPU, Northcote VHA, Plenty VHA (current club and Fed).
  * During his cricket touring days he regularly visited race fanciers and their lofts, and found it a most enjoyable and rewarding experience.
  * During his race career he has accumulated 31 wins at Federation and Combine level.

He's been the voice of Australian summers for more than 30 years. But Bill Lawry's greatest passion isn't cricket.
THE WEEKEND AUSTRALIAN MAGAZINE, DECEMBER 10-11, 2016
STORY: TRENT DALTON | PHOTOGRAPH: JULIAN KINGMA
He has positioned his armchair in the living room so that, at a glance, he can capture with his keen cricket commentator's eyes the scene beyond the rear windows. In the left of frame, the entry to a backyard pigeon loft and, right of frame, a segment of blue Victorian sky waiting for a bird to slash across it; for another wondrous bird to come back home. Like all pigeon fanciers, Bill Lawry admires his 80 or so racing birds for their miraculous navigational ability, for the internal compass that enables them to fly 800km across unknown terrain to find the entry to their loft beside the tin shed of his home off a dusty road in the Nillumbik Shire, north-east of Melbourne.
We humans aren't built like that. Sometimes, no matter how hard we try, we just can't find our way back home again. Sometimes we go away and we go away for good. Bill's been thinking lately about fortitude, his birds' unswerving determination to stay on course, their loyalty and devotion to home and their will to return to it. His birds will fight and flap through ferocious, energy-sapping head-winds. They will duck and weave through forests and cities, all the while being hunted by ­falcons with talons that can grip their small pigeon heads as surely as Rod Marsh's gloves could grip a Lillee outswinger. And it makes Bill wonder what it means to find home again, that place where you were always meant to be, that place where you belong.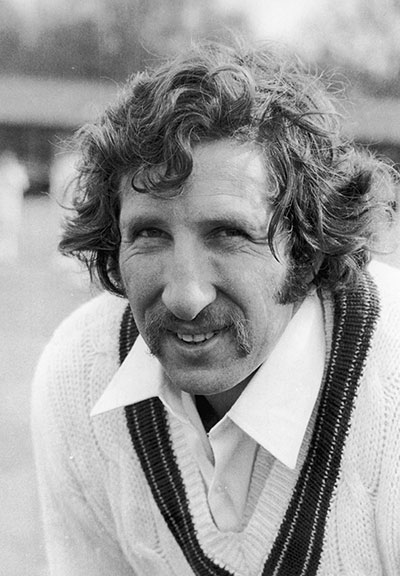 Early October. A strong wind is shaking the Nillumbik trees and blowing ripples across the Northern Suburbs Fly Fishing Club's competition lake. The cockatoos of Yarrambat Park chew the stems and leaves that fall from trees across fields of bright yellow canola. And Bill's dear friend Max Walker is dead. "What's going on?" he says, grief-stricken and confused, resting in that living room armchair he's positioned to see the birds. "They're all gone. When you get to 80, as I am next year, you sort of say, 'Gee, am I next?' " He shakes his head, baffled.
"Max to me was the biggest cricket personality in the past 30 years," he says. "He was bigger than Texas, good at everything. A wonderful presenter. Even when he had wind, you thought he was ­smiling. As a personality, I don't think we've had a better one." Then the names come, a roll call of the departed. "John Gleeson went the other day," he says. Australia's original "mystery spinner", 29 Tests in the baggy green from 1967-72, several with Bill Lawry as his captain. Died in Tamworth, aged 78. "Tony Cozier." A regular guest on the Channel Nine commentary team, the "voice of the West Indies" died in Barbados aged 75. "He was one of the originals," Bill says. "We used to call him 'The Man With the Golden Voice'.
Then the names that really smart deep down. The names he tries not to think about until summer rolls around, until he receives the call from Channel Nine to talk about the preparations for Bill Lawry to make another triumphant call of a Boxing Day Test at the MCG and those names are all he can think about. He says them softly, with long gaps in between them, like he hasn't rolled them around his tongue for months.
"Greigy." A long pause. "Richie." A long pause. "They're gone," he says
Gone. And it's so deeply moving to hear him use that word in that way, because you grew up hearing him use that word so joyfully and spiritedly through all those summers that he dragged you back into the lounge room from the kitchen, yanked you from your half-spread Vegemite sandwich with his high-pitched working-class cricket tragic roar.
"Got 'iiiimmmmm!" he screamed.
"Bowled 'iiiiiimmmmm!" he hollered.
"Goooooone!!!!"
"He's GONE!"
But not forgotten. For the 33 summers of Channel Nine cricket commentary they shared, when they were commentating on games in ­venues outside Melbourne and Sydney, Tony Greig, Richie Benaud and Bill Lawry travelled together. Greig seemingly knew the shortest route to every major cricket ground across the world and, as such, insisted on taking the wheel. Bill took the front passenger seat. "If Richie was with us I'd always get out of the front and hop in the back," he says. "You hop out for Richie.
"Good morning," Benaud would say, sliding into the front passenger seat with matinée idol elegance. And from the pocket of his beige-coloured sports coat he would produce a piece of paper with several handwritten names of touring cricketers from the Indian subcontinent.
"'Righto, Bill,' he would say, 'Let's go through these names.' And he'd go through this list of names I hadn't pronounced correctly," Bill says.
Say it after me, Bill.
"Suu-neel Gav-as-kar. "
Say it just like this, Bill.
"Mu-tti-ah Mura-lit-haran.
"And I'd sort of mumble something back," Bill says. "'WRONG!' Richie would say. 'Wrong, Bill, try again.' By the time I got to the ground I was a mumbling mess. Of course, the others didn't fall for it, they'd studied the names to avoid the same treatment. I never studied the names. He loved doing that to me. Richie would terrorise me with the pronunciations." Long may we measure the depth of Richie Benaud's character by Bill ­Lawry's seamless, note-perfect pronunciation of "Shanthakumaran Sreesanth".
"They were wonderful times," he smiles. "But how lucky was I? Richie was my first Test captain." He remembers watching Benaud work the crowds on the ship that took Bill to his first ­English Test tour, 1961. "I batted 41 times in ­England in 1961, the equivalent of three Sheffield Shield seasons at home. I make a duck on ­Monday, a hundred on Thursday, a duck on Sunday, a ­hundred on Monday. You get the form flowing. I made 2000 runs and that was the start of it for me. It was a golden summer."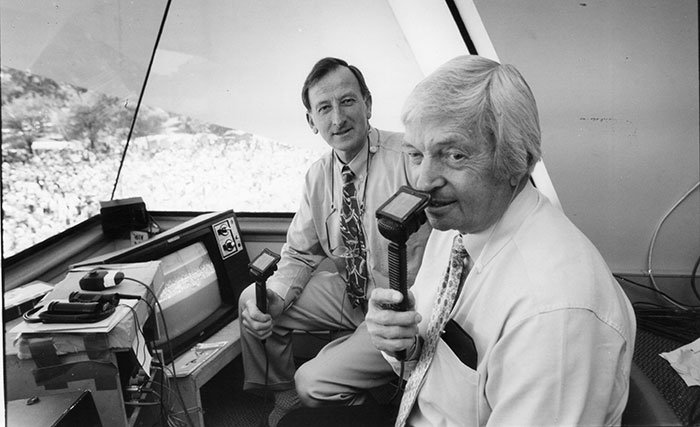 With Benaud at the Adelaide Oval.
Benaud did the same thing for him on that tour that he did later in the commentary box: made him better at his job, made him a better man. Benaud had a strength that other men fed off. He had fortitude. "But he was fairly feeble before he got sick," Bill says. "He wasn't strong then. And then he got sicker."
He reels from the memory of that. He drops his head, distracts himself with a series of black and white 1960s photos lying on his lap, old and random newspaper snaps tracing his life in cricket. He scored 5234 runs in 67 Tests for Australia. The legendary stonewall. Boring as batshit, cricket lore says, but brilliant in a second innings jam, a man so famously skilled at defence that one sporting scribe called him "a corpse in pads". "I believed in two things in cricket," Bill says. "You play 110 per cent to win and you play 150 per cent not to lose.
The impenetrable defence was in his blood, learnt on the side-street pitches of Northcote, north-east Melbourne, where his factory worker dad, Alfred, bowled endless balls to his late older brother, Ern. "My brother played in an A-grade final once where one of the bowlers started ­bowling underarm and started to cry because my brother just wore him down so much with his defence," he says. "It sunk in. The idea was to bat as long as you can." A sentence that could well be bannered across every dressing shed the beleaguered Australian Test team enters this summer
"You'll never die of a stroke, Lawry," the crowds roared from the stands.
"Don't forget you're entertainers," Sir Donald Bradman once chided Bill's team in the early 1960s after yet another clinical, colourless victory. "I'll never forget it," Bill says. "I was down the back of the room and Richie was captain. And [wicketkeeper] Wally Grout was the only one of us with any guts – he said, 'We can't be much good if we're gettin' paid £50 a Test match'. That was true. All very well for Sir Donald to say 'entertain'. "
He remembers a first-class Sunday game where he opened the batting with Bob Cowper. "I was walking through the gate with Bob and he was a bit down and I said, 'What's wrong?' and he said, 'We're getting paid two pound 10 a day. We play for nothing'. He said, 'See Jack on the sight screen? He's in the Miscellaneous Workers' Union and he's on time and a half, getting eight pound 50!' Bob Cowper was far more intelligent than I. I still went out and blocked all day for two pound 10.
Of course, players can earn millions today. And Bill's unsure what effect that has on their ability to do the thing they're paid the millions for: to bat as long as they can. "I think it must be great to earn $4 million a year but terribly frightening if you've made a pair and it means you're gonna lose the $4 million if you don't make another run," he says. "That pressure is so much greater for them. They all want to be clapped.
But the Bill Lawry stonewall legend is a pigeonhole, too. His long-time commentary colleague Ian Chappell is forever pulling people up at lunches on this subject, reminding them how few times he outscored William Morris Lawry in a game. Watch the old black and white footage and the textbook defence is there, the towering body that could loom over a short-pitched delivery like a shadow, the hawk nose that could sniff out the leather on a swirling off cutter. But so, too, is a slashing grace. Bill Lawry could punch a straight drive the way Walter Lindrum struck a cue ball. His cut shot was a French guillotine that left British heads spinning. Benaud, as he was wont to do, had the last word on the matter of Bill's skill at the crease. "One of the best batsmen ever to play for Australia," he said.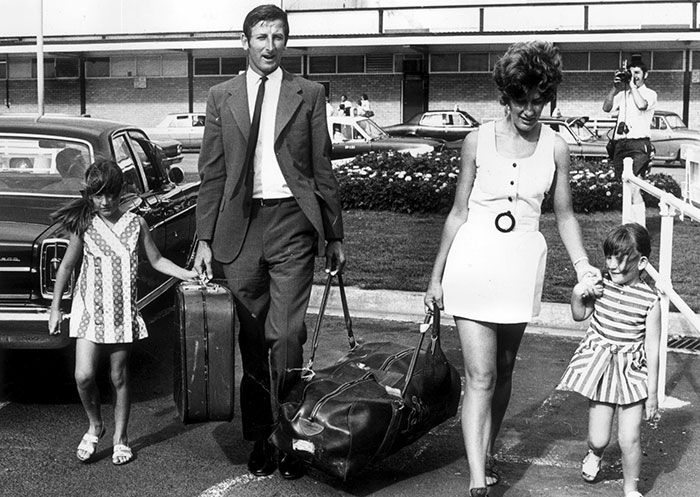 Bill with Joy and the girls picking him up after his last Ashes tour, 1971.
Bill stops on a photo of a beautiful woman in a Twiggy dress. He smiles. It's Joy, his wife. She's picking him up from the airport after an Ashes tour, with their two young daughters, Elizabeth and Susan, in tow. The girls are in their 50s now.
Bill and Joy met on a blind date; they went to the movies. "The Man Who Knew Too Much," he says. "James Stewart, Doris Day, Que Sera, Sera. Changed my life forever.
Joy's sleeping down the hall in the main bedroom right now. She's unwell. "Crushed vertebrae," Bill says. "She's in severe pain all the time. She's not the girl you see here in this photograph.
He devotes his life to caring for Joy these days, keeps the commentating down to cameos at the Melbourne and Sydney Tests. "I can almost hear her talking in this photograph," he says, taken with the image. "The thing was, we'd be away on tour for seven-and-a-half months back then. A month by boat there, play for five months, a month back. I know what Joy is saying here: 'I've been feeding your pigeons for seven months, we've got no money and the kids don't know who you are. We're flat broke, Bill, and what are you going to do about it?' And then I'm saying back: 'Well, first I'm gonna go down and feed the pigeons'.
He always had the pigeons. Bill rises from his armchair, walks to the back glass doors and out towards a pigeon loft the size of a granny flat.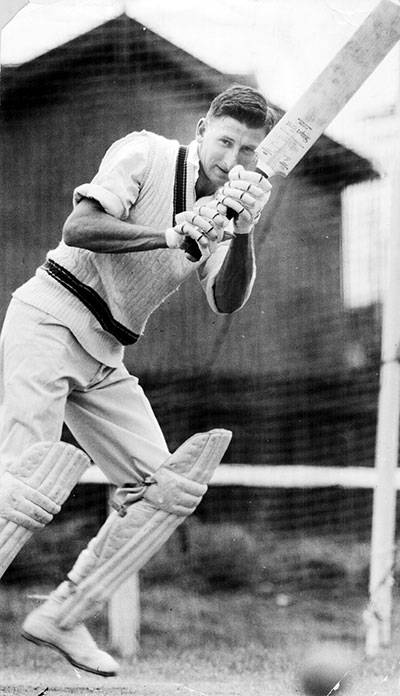 He was dropped as Test captain during the 1970-71 Ashes series. The selectors – Bradman among them – infamously failed to notify him of the axing before he heard the news on the radio. "Unbelievable!" roared his loyal successor, Ian Chappell. But Bill left as he came, quietly. "I've no anger at all about being dropped," he said. Because he always had this, the pigeon loft, the place he always felt he belonged, ever since he was eight years old, when he begged his father and brother to be allowed to clean it out. That was fun for young Bill Lawry, scraping out handfuls of old feathers and bird shit. His personal paradise.
"It was different for me because the pigeons were always my greatest passion, far more than cricket," he says. If you really press him for a highlight of his sporting career he won't speak of hard-fought victories, he'll speak of being the only Australian Test captain invited to walk through the Queen's royal pigeon lofts. He'd knock a stunning century in an Ashes Test and the first thing he'd do in the dressing shed would be to call home to ask Joy about the welfare of a month-old pigeon. He knows the bloodlines of his birds going back generations. He'll stand out in this yard in rain and hail, waiting for his pigeons to return. Joy has watched him through the back glass windows, standing for hours beneath an umbrella, eyes fixed on that ever-changing Victorian sky. Why?
"Because they try. If I had as much courage as them I'd have equalled Bradman's record," he says.
"They're the first thing I think about when I wake," he continues. "Apart from Joy, of course. I get up and I come down here. When I walked out my back door as a kid we had finches and ferrets, two dogs and a pigeon loft and that was my life.
"I couldn't get away from the cricket ground quick enough. The happiest moment of the day for me is when I drive into the driveway of my house. That applied when I was single, when I was married and it remains to this day."
He was captain of Australia and then he wasn't. "What are we going to do now?" Joy asked. And he didn't know. He didn't have the faintest idea how he was going to support his family after cricket. But he always had his pigeons. Whatever will be, will be, he said. The future was for Kerry Packer to see.
The house is rustic and cosy, decorated with antique plates and family keepsakes; there's only one picture of Bill in his cricket days, hanging on the wall by the TV that he likes to watch the horse races on. Joy emerges from the bedroom in the afternoon, her right hand nursing her lower back.
"Who's that girl?" Bill smiles, handing her the shot where she's wearing the Twiggy dress.
"Oh! My! Godfather!" Joy laughs. "That's amazing." She smiles wide, then the smile flattens out, like she's registering the width of the gap between now and then. Bill nods, not really knowing what she's thinking but agreeing with her all the same.
"We're just talking about Greigy," he says.
"Mmmmmmm," Joy says, mournfully.
"Joy was very close to Greigy," he says.
"I miss him," Joy says. "Bill does, too. Terribly."
Bill turns his head away, tears welling.
Joy changes the subject. "You want a cup of tea?" she asks. She pads off slowly to the kitchen.
Bill sits in his armchair staring at another black and white photo on his lap: December 7, 1992; he and Tony Greig in the Channel Nine commentary box. "Greigy came out of the blue," he says. "And, for me, it was a very sad loss because we were probably the closest on the commentary team.
Yin and Yang. Greig, the worldly and debonair private schoolboy from South Africa. Bill, the working-class plumber, the bloke who stuck his hands down toilets through cricket off-seasons because match wages weren't paying the bills.
"Don't forget you're entertainers," Kerry Packer said. "You guys played the game, I'm not going to tell you how to commentate but you have to realise 80 per cent of people haven't got a clue about cricket. There's a lot of women watching now. They don't understand what leg gully is, or bat-pad. You're talking a foreign language. I don't care what you say, but I want you to entertain.
"So we get on air," Bill says. "And Richie is on: 'Welcome to the Sydney Cricket Ground'. First ball, Richie says nothing. Second ball, Richie says nothing. Lillee's bowling. Nothing, nothing, nothing, nothing. Six balls, none for two. Commercial break. Not a word said. I can't say anything because Richie's not saying anything. I'm colour, he's commentator. Then the phone rings in the back of the box. We can hear Kerry, 'Would you tell those two this is not the BBC, get the bastards to talk!
"So the over starts and it's [Bob] Massie from the southern end. Then nothing from Richie. Nothing. Nothing. It got to ball four and I said to myself, 'I need this job more than Richie'. So I started talking and I haven't stopped since.
It was screaming more than talking. The great silent rock at the crease became a livewire in the commentary box. At his best, Bill isn't self-editing impulses from the heart to the head and to the lip-ribbon microphone pushed up beneath his nostrils. He's all instinct, with an unparalleled ability to externalise the internal, instantaneously. He was like that on the field. "Catch it!" he'd scream at Ian Chappell in slips as a leather missile came off the bat. Chappell would dutifully take the catch then quietly approach his captain: "For Christ's sake, Bill, shut up. The ball's flying at me and you're shouting, 'Catch it'."
On an early tour of England, Bill was delighted to hear a long-time hero, Jack Fingleton, wanted a quiet word in the post-match dressing shed.
"Yes, Mr Fingleton?" Bill chirped.
"Bill, do you mind if I give you some advice?"
"Of course, Mr Fingleton," Bill said.
"When a player is fielding on the boundary at deep fine leg, he does not appeal for LBW!"
Bill thought about this for a moment.
"But I do, Mr Fingleton," he said.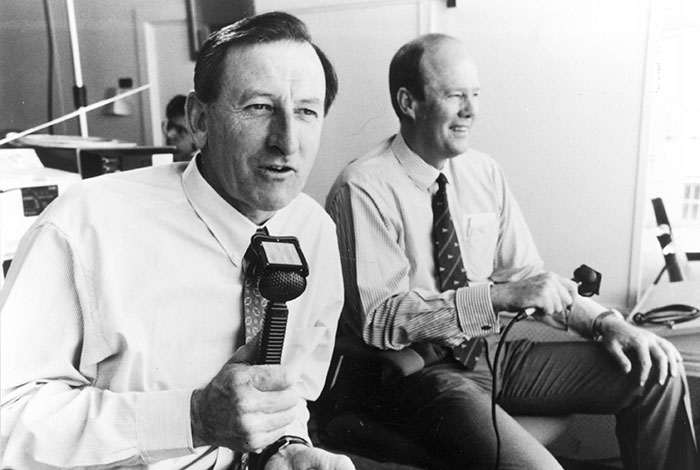 With Tony Greig, 1992.
He still commentates today, nearing 80, as though he's standing at mid-off in his old green cap, feeling every pulse of the on-field electricity.
"It's all happening here!"
"It's all over at the WACA!"
"Bang! Bang, bang, bang, bang!"
"Bowled 'im. Last ball, can you believe it!"
He didn't just commentate, he roared like he was Lawrence of Arabia in the desert calling, "No prisoners!" He became the everyman caller for us all. The voice of Packer's cherished 80 per cent. Where Benaud and Greig were all rapier wit and statistics, Bill was murdering language with such vigour that after every call his producer would present him with a sheet of paper upon which he'd scribbled the many clipped words Bill had slayed with his Northcote tongue: "Gotcha? On ya bike? Got 'im, bowled 'im!"
"I'm a dull person but when I go to the cricket I change," he says. "I'm not a cricket vegetable. By cricket vegetable I mean Ian Chappell is a cricket vegetable. Ian Chappell will tell you what ground we played at, what hotel we stayed at, who got him out, who got me out and how big the dressing room was. He's a boring man, he really is. Honestly, he remembers everything." Bill laughs.
Benaud was a trained BBC journalist. He never changed his reserved, dignified style of broadcasting no matter how many times Packer asked. "The rest of us could do what we liked because Richie brought the balance," he says. "He would never criticise anyone. If Steve Smith got out to a long hop that was half-pitched and hit to square leg he'd say, 'Not a great shot, but, my word, it was a good delivery'. He did not turn a hair for anyone. He was not going to change his method of commentary for anybody. And a lot of people loved that style. But all those people who loved Richie's approach are now gone, too. And, of course, now we're all screaming. It's a screaming match.
Bill looks deeper into the photo of him and Greig in 1992. He's struck with a vision of Greig spread out in the commentary box, snoozing. "He had a few battles with epilepsy," he says. "He'd lie down and say, 'Wake me up at five to three because I'm on at 3pm'. He was gamer than me because he was mates with Kerry. If he thought things were a little dull in the game, he'd find the bird with big boobs in the crowd and say, 'Camera five, put it on her'. Then he'd leave me hanging there to think of something to say." When Bill remained silent, not swallowing the bait, Greig would discreetly have the camera pan to a ­luscious, plump pigeon resting in the bleachers: "Phwoar! What about that one, Bill?
A magic double act that evolved over endless summers, and masking the deep respect and love they had for each other was their greatest trick. Bill's bottom lip trembles and he places the picture on his coffee table. "Aaahh, Tony," he sighs.
Bill is driving to Rosebud on the Mornington Peninsulatomorrow with a few young pigeons in his trailer, to set them free for their first training flight. "At a month old you put them out of the loft and they fly and flutter about, and within the next month if they fly around and come back, they're homed," he says. "I'll let them go in Rosebud, which is an hour and a half flight back home." Sometimes young birds don't make it back, but most times they do. "They'll come back," he says. "Once they're homed, they're home forever.
On December 26, he will make his way to the Melbourne Cricket Ground to call another Boxing Day Test. He won't have Richie in the car to help him with the pronunciations of a few of those names in the Pakistan side. Iftikhar Ahmed. ­Misbah-ul-Haq. Zulfiqar Babar. But he's wrapped his Northcote tongue around trickier names. Almost two million of us will switch on our ­televisions to hear him call the Test. "To sit in a commentary box for the first ball of a Boxing Day Test in Melbourne, well, I reckon that's like being king," he says. Hearing those first words from Bill Lawry has become almost as important as seeing that first delivery. Because we don't know how many more calls he has in him. He won't say when he'll stop, because Channel Nine's policy is that he can call the ­Boxing Day Test until he feels he can't. The door will always be open
In that commentary box on Boxing Day he'll see his friend Ian Chappell taking last-minute notes on his laptop. He'll shake hands with Mark Taylor, a man he considers one of the greatest Test captains of all time. He'll see Ian Healy and they'll rib each other about how Bill didn't vote for Healy as wicketkeeper in the Australian Cricket Board's Team of the Century; he voted for Don Tallon.
Tony Greig will be in the box, too. He'll be in the ear of a harried statistician, mining deep ­pre-game facts about the opening bowlers. Richie Benaud will be there, tucked away in a corner scribbling notes for the morning anchor cross.
Bill will take his microphone and sit down in the commentator's chair amid a series of monitors pressed up close to the box's angled glass window. He will look out across 90,000 cricket lovers and his keen commentator's eyes will zero in, as they always do, on the Members Reserve and he'll imagine what it was like to watch Don Bradman on this hallowed wicket during the 1932 Bodyline series as Harold Larwood was stepping out a runup for a delivery intended to knock the unprotected head off the greatest ­batsman who ever lived. A shiver will run down his long Victorian spine. And he will know what it means to find home again.